Referral Link for Garden of Life
Click To Apply Garden of Life Referral Link
Referral Code for Garden of Life
JOHN-R8F
What you get as a sign up bonus for using the referral link or referral code at Garden of Life
Get a 25% discount voucher off your first order at Garden of Life when you sign up using the referral link or referral code
What is the minimum spend
There is a £40 minimum spend required for the referral discount to work
How To Apply The Referral Link or Code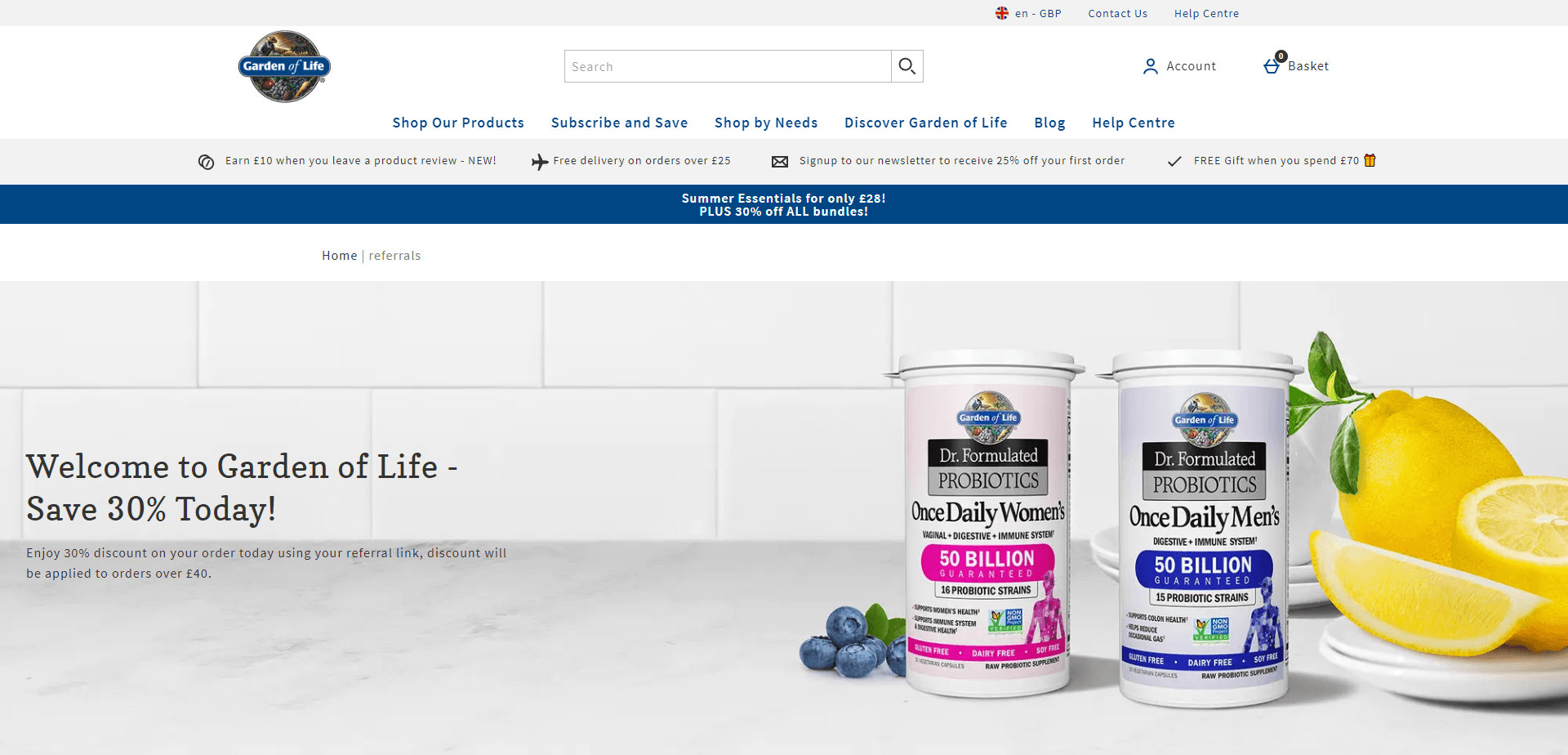 Click on the referral link listed above
Go to Account and Register to sign up to Garden of Life
On the sign up page enter the referral code
Add items to your cart and meet the minimum spend requirement
When you go to checkout the discount voucher will be automatically applied
If not then you can use the referral code above
Description
All Garden of Life vitamins are made from real, whole foods with nutrients that your body is able to easily recognize. Garden of Life is a dietary supplement company that produces products such as vitamins, minerals and probiotics along side protein powders and herbal remedies. You can use their website to shop by specific needs, for example products specific to immunity support, hair care or sleep and relaxation which makes it easy to find products that help those specific issues. Garden of Life allows you to buy one-off items or sign up to their subscription service and get a discount when you subscribe. If you are unsure which supplements you need then Garden of Life have a short quiz you can take and it will show you tailored products based on your answers.
What countries is this available in
Worldwide
How To Find Your Own Unique Referral On The Website So You Can Refer Your Friend
Go to the Garden Of Life website
Sign in or sign up using the referral details above
Go to the Account page
Look for the Your Referrals box and click View Details
Choose your method for sharing your referral link or referral code
Email, Social Media or by URL Link
Share with friends
Once a friend or family member uses your referral and makes a purchase, you will be rewarded with £10 store credit which you can spend online at Garden Of Life. This credit stacks meaning that if you refer muliple people then you can build up credit and get items for free
Extra Discounts
TopCashback - Get up to 17% cashback
Quidco - Get up to 9.75% cashback
Qmee - Earn 7% cashback
Student Beans - Get 15% off plus free delivery with a Garden Of Life student discount
Bonus Tips
To maximise rewards and discounts:
Sign up to Garden of Life using the referral link above
Go to TopCashback , Quidco or Qmee website and look for Garden of Life
Click the Get Cashback button
This allows you to combine the referral rewards and any cashbash bonuses that are available
Please note that there may be a minimum spend required for a voucher or discount to work. Check Garden of Life's Terms and Conditions for more details.

If the Referral Link or Referral Code does not work then please use the Contact Form below:
Contact Us
Please include details of the cost of your shopping cart before delivery fees if applicable.