What is Coinbase?
Coinbase is an online trading platform for buying, selling and transferring a large selection of Cryptocurrencies that are available to customers worldwide. Coinbase is very user friendly as it has a simple interface that allows you to select the cryptocurrency you want, click the buy button and simply enter the amount you want to buy. No need for complicated technical trading charts. You can also use Coinbase to hold your cryptocurrencies as they change in value over time.

The Coinbase platform is relatively secure as it uses two factor authentication for every single transaction that you make, which improves overall security.
How Do I Get Free Money From Coinbase?
There are two ways to get free money. The first is by signing up and creating a Coinbase account as a new customer. The second way is through their Learning Rewards Programme.
Earn At Least £18 for Signing Up
To maximise the amount of free money you can get as a new customer, we will be signing up to Coinbase via the TopCashback website. If you dont have a TopCashback account then you can sign up using  this link here which will give you a £10 TopCashback Bonus just for being a new customer. If you already have a TopCashback account then log into it.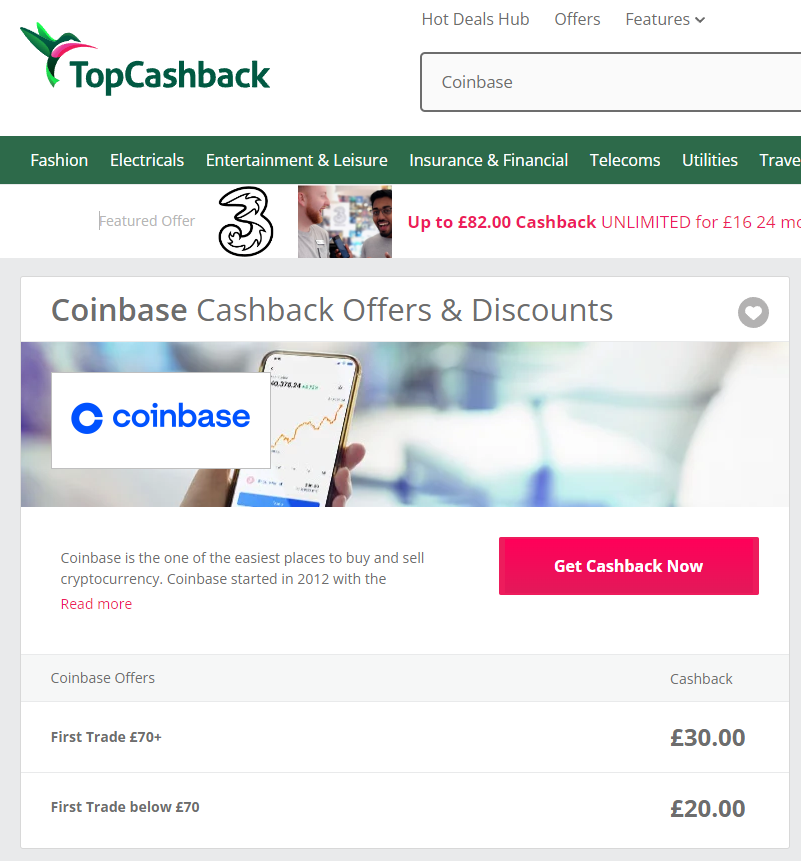 Once you have signed up or logged into TopCashback, go to the search bar and search for Coinbase. There are two cashback offers available:
First Trade over £70 with a £30 Cashback Reward
First Trade below £70 with a £20 Cashback Reward
To get the most free money we will focus on the First Trade below £70 with a £20 Cashback Reward offer.
Click the
Get Cashback Now
which will take you to the Coinbase website. This will track your purchases on Coinbase and when it detects you have made your first trade, you will be rewarded money into your TopCashback account.
Enter your email address on the Coinbase website and click Get Started. From here follow the instructions on screen to sign up to Coinbase.
In order to get the cashback reward you need to make at least one trade. It is best to make the minimum trade possible which is £1.99.
As a reward for making your first trade you will get £20 from the cashback reward which means you are getting £18 of free money. You can also get an additional £10 cashback reward if it is also your first time signing up for a TopCashback account.
To make your first trade after signing up, go to the Trade screen and choose any cryptocurrency token. Click on the buy button, enter £1.99 and buy the token. After ~48 hours the £20 cashback reward will appear in your TopCashback account.
Earn At Least £10 Through Coinbase Learning Rewards
Coinbase gives you the opportunity to earn free money through their Coinbase Learning Rewards programme for simply reading a few extracts and answering questions on them.

Navigate to the Learning Rewards screen and click on any of the programmes that have "Earn". A card will appear that looks similar to an instagram reel.

Read through the reels and then you will be presented with a multiple choice question. If you are unsure of the answer you can look back at the reels or google "Learn and Earn Coinbase The Graph" if you were doing The Graph programme for example.

Dont worry too much if you click the wrong answer as you will get the chance to answer it again.

At the time of writing this there is £16 worth of free money to be gained from the Coinbase Learning Rewards programme. This money is paid out in the form of cryptocurrency tokens and so it is your choice whether you sell them off or keep them and hope they go up in value over time.
Quick How To
Coinbase Sign Up Offer
Sign Up to TopCashback using this link here to get a £10 signup bonus
Search for Coinbase on TopCashback to get a £20 Cashback Reward Offer when you make your first trade on Coinbase
Click Get Cashback Now which will take you to Coinbase
Sign Up to Coinbase
After signing up go to the Trade and click Buy on any of the cryptocurrency tokens
Enter £1.99 as this is the lowest amount you can buy
£20 Cashback will appear in your TopCashback account in ~48 hours
This will give you £18 profit plus an additional £10 if you are signing up to TopCashback for the first time
Coinbase Learning Rewards Programme
Sign Up using the method above or Log In to your Coinbase account
Navigate to Learning Rewards
Choose a programme
Watch 4-5 Instagram-Style Reels and answer a multiple choice question
Earn free tokens when you get the answer correct
If you get the answer wrong then you can try again