Referral Link for Very Neko
Click To Apply Very Neko Referral Link
Referral Code for Very Neko
JOHN-R60
What you get as a sign up bonus for using the referral link or referral code at Very Neko
Get a 10% discount voucher off your first order at Very Neko when you sign up using the referral link or referral code
What is the minimum spend
There is a £30 minimum spend required for the referral discount code to work
How To Apply The Very Neko Referral Link or Where To Enter The Very Neko Referral Code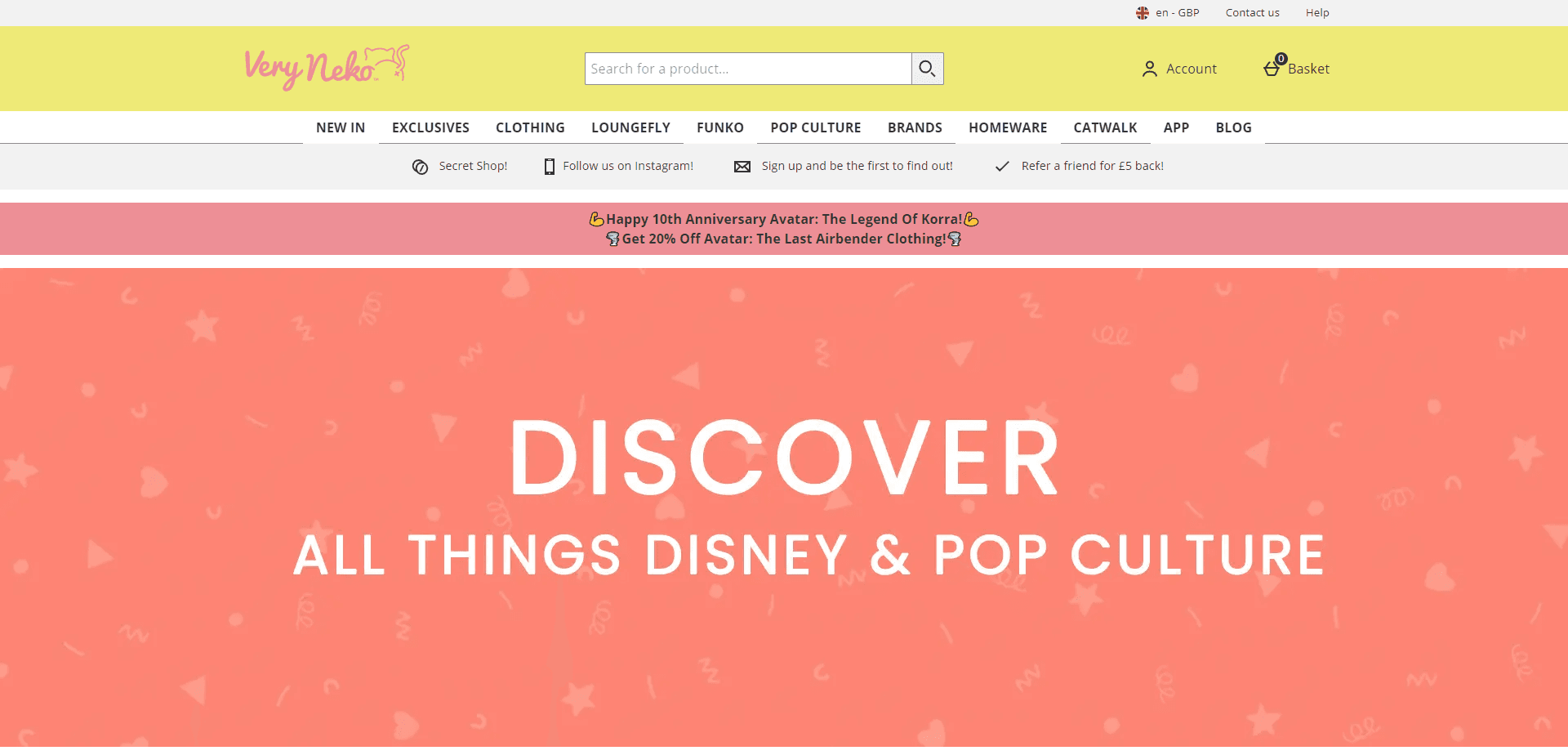 Click on the referral link listed above
Go to Account and Register to sign up to Very Neko
On the sign up page enter the referral code
Add items to your cart and meet the minimum spend requirement
When you go to checkout the discount voucher will be automatically applied
If not then you can use the referral code above
Description
A Playful, Stylish, and Cat-loving Brand Very Neko is an adorable, purrfectly charming, and cat-centered brand designed especially for cat lovers who wish to indulge their feline desires. With a diverse collection of limited-edition products that cater to all things cat, the brand is proud to distinguish itself as a modern and chic brand with lively, stylish, and fashionable merchandise. Very Neko, headquartered in the United Kingdom, is known for its expansive selection of high-quality items that seamlessly blend love for cats with tasteful design. The brands core principle lies in celebrating cat owners unique experiences and showcasing them through a dynamic and vibrant catalog. If youre passionate about cats and want the world to know about it, Very Neko is the one-stop-shopping destination for you! From comfortable and cozy loungewear to eclectic home décor items, the brands extensive range facilitates the expression of your personal style through the little everyday pieces that make your space your own cat-inspired haven. The whimsical collection includes an array of clothing featuring cute cat prints and witty slogans, home accessories embellished with cat motifs, cat-themed makeup and beauty items, chic bags and purses, and even a range of pet accessories for your furry companions. In collaboration with other popular brands like Loungefly, Disney, and Pop In A Box, Very Neko assures top-notch design and quality in each of its offerings. Their limited-edition collaborations are highly sought after by fans and often sell out in record-breaking time. The brands Loungefly collection, in particular, features alluringly adorable kitty-inspired backpacks, coin purses, and cardholders. Combining playful designs with optimum functionality, these bags effortlessly capture the essence of Very Neko: youthful and cat-friendly. Very Nekos wide array of items bears testament to the brands ever-evolving inventory. With a strong focus on exclusivity, the range includes highly sought-after limited-edition items, Regional Exclusives, and highly-collectible pieces. The carefully curated collections allow cat-lovers to find their favorite items with ease, fostering a sense of community in the process. The brands website, Veryneko.co.uk, is an easy-to-navigate platform that enables a seamless browsing experience. The site categorizes products under distinct sections like Loungefly, Disney, Homeware, Beauty, Apparel, and more, making it a breeze for shoppers to locate their desired items. Very Neko also maintains an active blog on its website, which features up-to-date news on the latest product launches, collaborative releases, and insider looks into upcoming collections. The blogs assortment of captivating articles is designed to keep shoppers engaged, informed, and entertained. Very Nekos commitment to its customer base is seen not just through its lively product selection but also through the companys customer-friendly policies. The brand prioritizes customer satisfaction and offers prompt and reliable shipping options, worldwide delivery, and a hassle-free returns policy. Moreover, to ensure continued customer loyalty, Very Neko hosts frequent and exclusive giveaways, contests, and promotional deals. In conclusion, Very Neko is a trendy and fashionable brand dedicated to passionate cat-lovers who want to express their love for the feline kind through an array of stylish and functional items. With a glistening repertoire of exclusive and limited-edition merchandise, collaborations with renowned brands, and an active online presence, Very Neko strives to create a strong global community of proud and stylish cat enthusiasts. Whether youre looking to pamper yourself or surprise a fellow cat-lover with a thoughtful gift, Very Neko is the ultimate destination for all your kitty-inspired shopping needs.
Does Very Neko still do referral codes?
Yes this retailer currently has an active referral marketing program or sometimes known as a referral marketing campaign that you can sign up to and get a unique referral code or a unique referral link which you can send to your friends as long as they are a new customer.
What countries is this available in
UK Only
How To Find Your Own Unique Referral On The Website So You Can Refer Your Friend
If you are wondering "how can I find my referral code" then follow these steps below:
Go to the Very Neko website
Sign in or sign up using the referral details above
Go to the Account page
Look for the Your Referrals box and click View Details
Choose your method for sharing your referral link or referral code
Email, Social Media or by URL Link
Share with friends
Once a friend or family member uses your referral and makes a purchase, you will be rewarded with £5 store credit which you can spend online at Very Neko. This credit stacks meaning that if you refer muliple people then you can build up credit and get items for free
Extra Discounts and Promo Codes
Very Neko TopCashback - Get up to £2.50 cashback
Very Neko Quidco - Get £1.87 cashback
Bonus Tips
Most websites don't allow you to combine referral rewards and discounts, promos or coupon codes in a single purchase however many websites allow you to combine cashback and other rewards.
To maximise rewards and discounts:
Sign up to Very Neko using the referral link above
Go to TopCashback or Quidco website and look for Very Neko
Click the Get Cashback button
This allows you to combine the referral rewards and any cashbash bonuses that are available
What is the minimum withdrawal threshold?
There is no minimum withdrawal threshold for Very Neko meaning you can use any amount of store credit to get money off your purchases
Are referral codes optional?
All referral codes on Find A Referral Code are optional and you don't have to use them. However if you choose to sign up to a website without using a referral then you will miss out on the referral reward and it wont be possible to get it again as you are no longer a new customer. If you choose to sign up to retailers without a referral, you will still be able to access the referral programs/referral schemes and can still refer your own friends and families.
What if I forgot to enter my referral code during sign up?
Unfortunately if you or your friend forgets to enter the code or link then you will not receieve a reward. Your only option is to delete and make a new account, this time using the referral when you sign up. Please check the retail's Terms and Conditions first to see if its okay to delete your account.
Can I customize my code or link?
They will assign you a randomized code which will look like a unique combination of numbers and characters and so it is not possible to customize it.
Can I see how many people I have successfully referred?
Currently the only way to see how many people you have successfully referred is to check your emails to see how many notificaiton emails they sent regarding a successful referral. There isn't any way to see referral status information on their website.
What is the difference between referral codes and referral links?
A Referral Code is a unique combination of special characters and numbers that are specific to you that you send to a friend and they will manually enter the code on the website. A Referral Link is a unique url that is specific to you that you send to a friend and they will click the link. Using the link will automatically apply the referral.
Can I own referral codes for different websites?
You can sign up to as many different referral schemes as you want. There is no limit and you are not exclusive to only one website.
Where can I promote my referrals
Apart from directly sending your codes and links to friends and family, you can promote them on your social media accounts such as Instagram, Snapchat, TikTok, Twitter and Facebook etc. You can also promote them on subreddits such as r/Referrals or r/InviteCodes. You could potentially use tools such as Zapier to automate your promoting however you will have to check each of the retailers terms and conditions to make sure this is allowed.
Are codes reusable or do I have to regenerate a code?
You don't have to regenerate your code after someone uses it. Multiple people can use your code however there may be a maximum amount of people that can use your code.
Please note that there may be a minimum spend required for a voucher or discount to work. Check Very Neko's Terms and Conditions for more details.

If the Referral Link or Referral Code does not work then please use the Contact Form below: